Bomber Panda (for Playdate)
A game for Panic's Playdate console.
Help the 'Bomber Panda' save his species from extinction by... blowing stuff up!
This fun and challenging game has 31 levels of increasing difficulty for you to blast through.
Collect power-ups to increase your bomb capacity, explosion size and walking speed.
Avoid or blast the aggressive enemies while you try to find the exit.
The game does not utilize the Playdate's crank, so if you don't have your Playdate console yet, you can still easily play it on your desktop PC using the Playdate simulator available from the Playdate website.
Credits:
Code, Design, Graphics: Rob Seto-Patchett
Music: Brandon Gomez
Additional art: Yoshinori Fujioka
Purchase
In order to download this game you must purchase it at or above the minimum price of $2 USD. You will get access to the following files:
Comments
Log in with itch.io to leave a comment.
Iv been having a load of fun with this one. Not finished it yet but i love bomberman and puzzles
I loved Bomberman as a kid back in the nineties and this single player Bomberman experience feels better than most of the single player modes from the originals. Panda rules!
Totally agree with davetest. Of the 20 apps I have installed, this is definitely the one I keep coming back to. Great game.
That's really awesome to hear.
Thank you.
Any chance we'll see more levels as more people start receiving their hardware?
It's not something I planned to do, because I just considered the game complete.
But I could do.

I'm trying to concentrate on my next game at the moment, but perhaps later I'll update the game with an extra set of "DLC" style levels. (For free of course.)
Would love to collaborate if you'd be interested. And I think a DLC would be worth a payment, if only optional. Cheers!
Hi,
I'm not planning to make any large updates to Bomber Panda for a while.
I do have a level creation tool for it though.
I can send it to you if you'd like to try it out.
I'm in love with this game! When I got my Playdate I sideloaded about 30 games, and this is the one I keep coming back to. Currently grinding level 29. Keep up the great work!
Really glad to hear that you like the game so much.
Great update! FYI: The file still says 1.0 when it's on the Playdate. But I confirmed that the updates you made are there, so it is actually 1.2.
Thanks.
Yeah, I should update that pdxfile.
I seem to have a problem with that.
Thanks for letting me know.
As per the previous comment, it seems that you forgot to make a proper pdxinfo file. Currently it's like this:

name=Template
author=You, Inc.
description=A basic game template.
bundleID=com.yourcompany.TemplateGame
version=1.0
buildNumber=100
imagePath=SystemAssets
pdxversion=10500
buildtime=703299283
It plays and looks great on console! But just a heads up, it registers as "Template" when sideloading on site.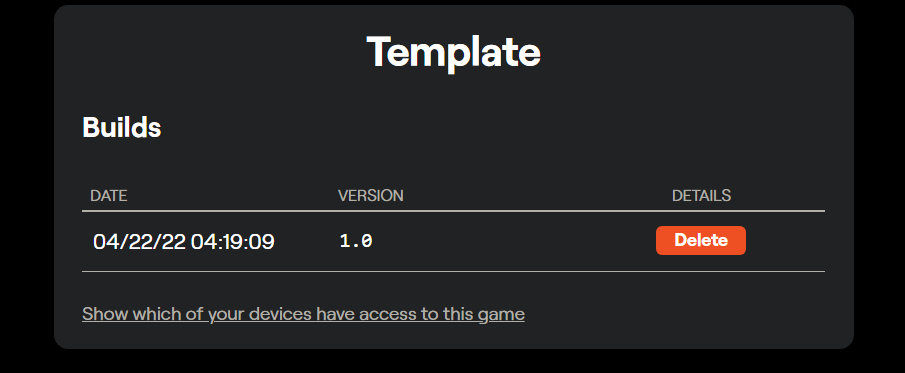 Have only played the first several levels, but excited to dive deeper into it!
I hope you enjoy it.
Thanks for the feedback.

I updated the downloadable file.